An Introduction to the Above-Ground Pool Experience
Talk to anyone about pools long enough and one single fact will quickly become self-evident. Almost everyone wants a pool. There's just something ubiquitous in the desire to lose yourself in a pool's refreshing water on a hot summer day. But while everyone might be steadfast in their desire for a pool they're not always as certain about the specifics. There's a considerable amount of options out there for pools. And it begins with the distinction between above-ground and inground pools.
An inground pool, as the name suggests, is a pool that's entirely in the ground. Likewise, a permanent above-ground pool is raised up off of the ground and intended for long-term use.
But there are some things to consider before deciding on one option over the other. And, likewise, if you go with an above-ground pool then there are some important points to keep in mind.
Benefits of an Above Ground Pool
There's a lot to love about an above-ground pool and many of its best features fall under a single word – convenience. Pool ownership is a fantastic experience. But it's not always an easy one. You'll typically have to juggle a wide variety of different maintenance, repair, and precautionary measures in order to keep your pool healthy. Even the initial installation of a pool will typically be a rather lengthy process. Many pool options require a great deal of paperwork and red tape before the first steps to actually set things up physically can even begin. However, an above-ground pool makes most elements of pool ownership a lot easier to deal with.

For example, an above-ground pool is so easy to set up that you might even be able to do it all on your own. And if you find yourself thinking that your new pool would work better in another part of your backyard? Well, you can move your pool anywhere you want just as easily. This ease of installation also translates into a lower cost and the same holds true for maintenance fees. An above-ground pool typically holds less water than an inground pool. And the less water in your pool the less money you spend maintaining it.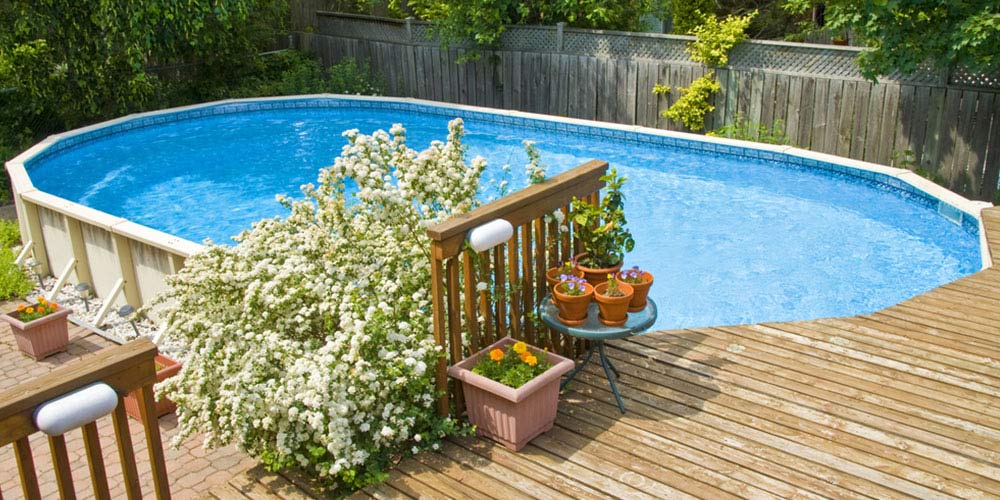 Above Ground Pool Categories
In addition to the main distinction between above-ground and inground design, there are also many other subcategories to take note of. Both forms of the pool have a multitude of different options. An above-ground pool is often defined by the material used for frame and siding. For example, a steel frame pool will be sturdier than one that uses resin. However, a resin-framed above-ground pool will be more rust-resistant than steel. Likewise, you'll see similar distinctions with aluminum, resin, or steel walled siding.

And there's even an additional subcategory that bridges the normally firm distinction between above-ground and inground pool – the semi-inground pool. These pools are partially buried in the ground. But their edge typically extends well above ground level. As such it's a nice compromise between above-ground and inground pools.
Installation and Setup
The installation and setup process for an above-ground pool is generally quite simple. In fact, you might not even need to bring in any outside help to do it. The option to hire professionals to set it up is, of course, available. But if you have any general DIY experience you can probably install it by yourself within a day or three. You can even think of it as the ultimate weekend home improvement project.
Maintenance and Care
People tend to focus on the initial cost of a pool. And it's true that an above-ground pool is extremely inexpensive when compared with the inground options. However, there's one part of that equation that's often overlooked – pool maintenance. It takes time, effort, and money to keep your pool in optimal condition. But all of that is lessened in above-ground pools. The actual maintenance costs are lower in part because of the fact that above-ground pools tend to have less total volume than inground pools. The less water the less money spent on cleaning and other associated costs.
Safety Considerations
Pool safety is always important no matter what the context. But an above-ground pool does come with some additional points to consider. On the plus side, it's far less likely that children or animals will fall into an above-ground pool. The fact that it takes actual intent to get into the pool means that nobody's falling in by accident. However, that doesn't mean it's entirely safe either. It's harder to get into an above-ground pool, but that also means it's harder to get out. So it's important to make sure that people who might have difficulty lifting themselves out of the pool are properly supervised.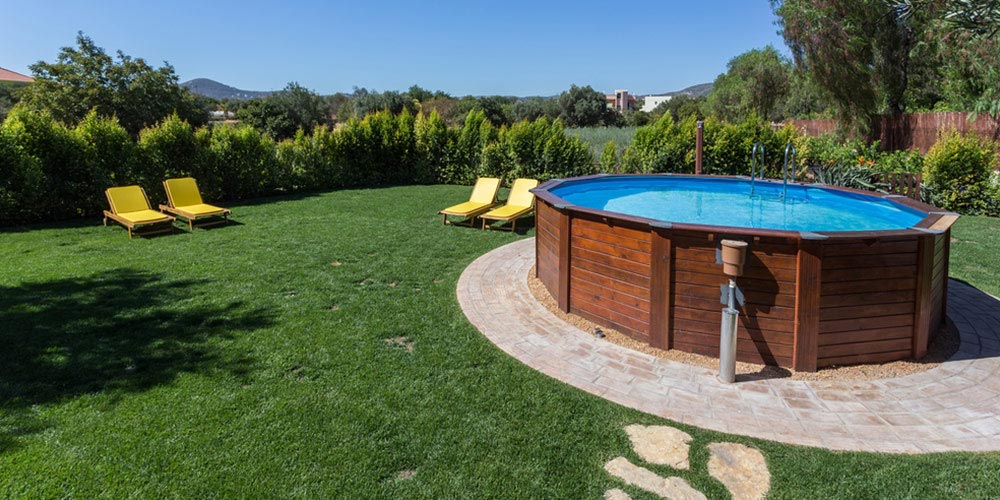 Accessories and Add-ons
Think about a perfect day relaxing at home with a new pool. Swimming is obviously going to be a big part of the experience. But really consider how you'd spend a huge amount of time spent by the poolside. The difference between a quick dip in the pool and a full experience typically comes down to the accessories. The pool lets you swim and cool off. But think about some of the great meals you've had by the poolside. What about those relaxing evenings with a hot tub? Every pool accessory opens up a whole new world of experiences.

A pool deck is one of the best places to start when you're considering accessories and add-ons. The deck is an iconic setting for poolside fun. But your choices for a deck will influence how well-suited your yard will be for all of those entertainment options. Are you looking to relax in a sun lounger or deck chair, grill by the poolside, or just have an area where you can rest for a bit before heading back into the water? You even have the option of elevated decks that are an especially good match for above-ground pools.

But there's also another option that often goes hand in hand with a deck – a hot tub. Hot tubs add a whole new dimension to the experience of owning a pool. There's just something indescribably wonderful about going from a pool into a hot tub. Or, conversely, having the option to do the same in reverse. It adds the perfect balance of exercise and relaxation to the experience. Having a hot tub also means that people who would prefer to relax rather than actively swim or play can still participate in the experience.

You might also be surprised by how many accessories that are normally associated with inground pools can be used in above-ground pools. There are some, like diving boards, which shouldn't be used with an above-ground pool. An above-ground pool simply doesn't have the depth for safe diving off of a board. But there are also a lot of options that do work perfectly well with an above-ground pool. For example, you don't need an inground pool to enjoy the dazzling and relaxing displays produced by fountains. And they're often just as quick and easy to install as the actual above-ground pool itself.
Costs and Budgeting
Pools have a reputation for being rather costly. And there are good reasons why people look at them as such a significant investment. The total cost of a pool can reach upwards of $69,000 for the more elaborate inground options. On top of the initial costs for construction, you also have to factor in additional expenses like decks, maintenance supplies and equipment, and landscaping. But just because a pool can be expensive doesn't mean it has to be.

In fact, one of the best ways to make pools more affordable is to go with an above-ground option. But that's only part of the picture. Above-ground options are less expensive than inground. But you'll still need to carefully budget for other expenses. Likewise for decisions on what kind of material you'll use for the above-ground pool, size, etc.
Longevity and Durability
The issue of care and maintenance has come up fairly often, and for good reason. An above-ground pool can last for multiple decades if you take good care of it. In short, take good care of your above-ground pool and it'll take good care of you. That means making sure that you have the correct pH balance, watch out for potentially abrasive debris, and make sure to replace the liner if there's any sign of damage. An above-ground pool might not have the durability of a concrete-based inground pool. But with proper care, an above-ground pool can still prove to be quite resilient.
Frequently Asked Questions
Have some more questions? If so, you're not alone! There are a number of questions about above-ground options that tend to come up whenever someone mentions them.
Why should I choose an above-ground pool over an in-ground pool?
While everyone has different priorities, it often comes down to cost and convenience. An above-ground pool is faster to set up, easier to take care of, and typically costs considerably less than the inground alternatives.
How much does an above-ground pool typically cost?
The final cost of almost any pool is highly variable depending on which options you decide to go with. As such, it's always difficult to stamp a final price on any one type of pool. The cost goes up or down depending on size, material, etc. But in general, an above-ground pool will typically cost somewhere around $3,000. Keep in mind that even if you go for the most expensive options there are still going to be ways to decrease the upfront cost. One of the best methods is to simply take advantage of the financing options from Viking Capital.
How long does it take to install an above-ground pool?
A typical inground pool installation is a lengthy process. But that timeframe is largely due to the necessity of excavation and permits. In contrast, you can quite literally have your above-ground pool set up within about one to three days.
Can an above-ground pool collapse or tip over?
It's true that an above-ground pool can collapse from the weight of the water within it. However, it's important to keep in mind that this won't happen under normal conditions. It usually occurs for one of two reasons. The first is if the pool has been improperly set up. And the second has to do with where the pool is placed. An above-ground pool should be placed on level ground so that the water's weight is evenly distributed rather than weighing more heavily against a single point within the pool. Of course, normal wear and tear, especially related to weather, can also influence this potential problem.
How long does an above-ground pool typically last?
An above-ground pool doesn't have the same longevity as an inground pool but it can still last a surprisingly long time. A properly maintained above-ground pool can be safely used for one or two decades.
Can I move my above-ground pool to a different location in my yard?
One fun perk of above-ground pools is that they're portable. It's easy to move the pool to anywhere you'd like. And you can even disassemble it during the colder months or any other period when you don't want to deal with pool maintenance.
Do all pool builders work on above ground pools?
No, it is best to talk to your desired pool builder to see if they deal with above ground pools. Like anything, many builders specialize in a certain type of pool installation (e.g Fiberglass, Gunite etc.). Same too for financing of that project, not all lenders will accept an above ground pool project but you can talk to one of our loan consultants to find out more.
The Wider Scope of an Above-Ground Pool
The various options found with an above-ground pool can be a little intimidating at first. But the good news is that you're long past that part of the process. You now have everything you need in order to decide whether above-ground pools are the best choice for you. It's just a matter of turning that newfound understanding into action.