Traditionally adding a pool to your home is thought of as an extravagant expense however, this is no longer the case. A pool often is affordable and manageable if you design a budget and make wise decisions in the purchase. Adding a pool will not only bring more enjoyment of your house by your friends and family but better yet, it can make your dull backyard into a real feature that will add value to your property.
You may be asking by now, "just how expensive is a pool? It is important not to see this purchase as solely a luxurious purchase; it is more wise to think of it as an investment. Keep in mind that having a swimming pool installed almost always adds value to practically any property. Done right, it is an improvement and investment that will not only provide hours of fun for your family, but will also add value to your home which is the number one consideration when you are looking to sell.
Swimming Pool Options
If you're thinking "swimming pool", no matter how small you may start, there are myriad swimming pool designs and types. Starting very small, here is a list of the basic swimming pool types and structures, from least expensive (and temporal) to most expensive:
Inflatable Pool
Above-Ground Pool
Fiberglass Pool
In-ground Membrane Pool
In-ground Gunite/Concrete Pool
Infinity Pool
Natural Pool aka Swimming Pond
Overall Average Swimming Pool Cost
So when looking at the average cost for a pool we first need to figure out which of the above swimming pool types we are talking about. We can't cover them all in this article so let's just focus on the main ones.
In-ground concrete pools including those luxurious fancy styles such as the infinity pool are the most expensive to have installed. Home Advisor offers a cost range as low as $17,000 all the way up to $47,000 for most models. However, the Bob Vila website gives a higher quote of $38,719 to $69,599.
These overall costs will vary according to your chosen design, region, site location and builder competition within your area.
In-ground concrete pools are the most common pool when looking at as more of an investment as these are more permanent than other options and often are the most impressive design wise. However, if the cost of an in-ground concrete pool seems a bit much, investigate the viability of a fiberglass formed pool or a vinyl-lined in-ground pool. A fiberglass or vinyl-lined pool can cost up to 30% less and in the long run due to not having as much upkeep and maintenance costs as a concrete pool. However, your financier may approve a pool loan based on the type of home improvement that your pool with provide. They can also provide more information about how long can you finance a pool for as this will vary based on the loan amount and your credit score.
The Bigger Project Picture
Remember that when putting in a pool the pool itself is just one aspect of the cost, and there are many other features that need to be factored in:
Decking
Fencing
Landscaping
There are also add ons that you may also want to consider in the project e.g:
Spas
Seating areas
Shade pergolas
BBQ/Outdoor kitchens
Firepits
Waterfalls
Slides and other play equipment
In many cases, lenders will cover all the items listed above and other renovations needed – in other words the entire outdoor living project!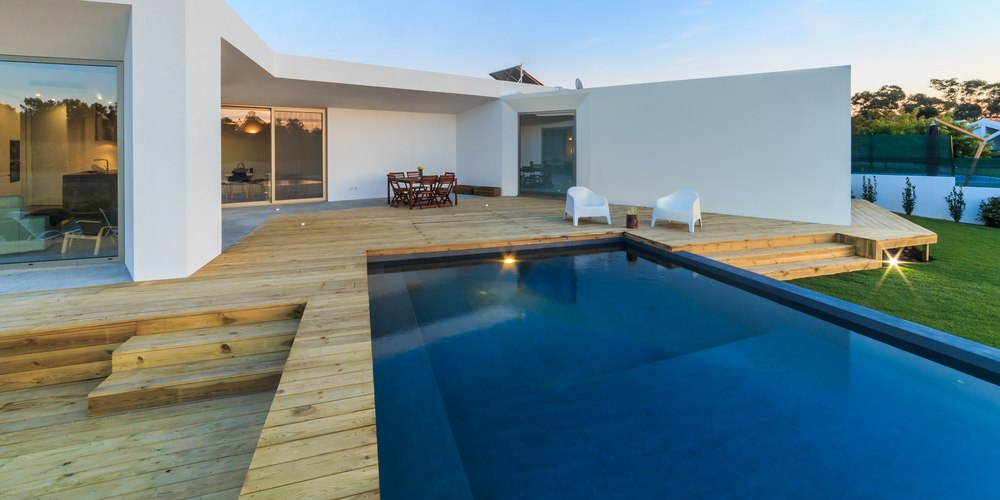 Maintenance and Ongoing Expenses
Rarely is the purchase price of any notable investment and/or amenity the only expense you will invest. There are various and ongoing expenses to maintain your pool clean and servicing of the system that your pool uses. Furthermore, even in the balmiest of climates, most pools require a seasonal closure. Here are some general ongoing expenses you will incur after the initial purchase price of your pool:
A pool tarp and rope to cover your pool seasonally;
Algaecide;
Shock treatment;
Increaser/decreaser chemicals for alkalinity, calcium, and pH;
Chlorine tablets or granules;
Chlorine testing kit to periodically check your pool's pH, calcium hardness, total alkalinity, and chlorine levels;
Non-essential items include pool toys, floats and safety features for youngsters, pool toys and game equipment;
Suggestions for Saving Money on Any Pool and Its Installation
Choose a simple deck or surrounding perimeter but don't skimp on the safety fence;
Choose a smaller or more shallow pool if choosing an in-ground pool. Deep pools cost considerably more and can also present more safety hazards – your children will love the pool regardless of the size;
Go minimal with fancy features: Choose minimal, not-special-effects lighting, basic tile choices, and choose to add slides or diving equipment later;
Make the intentional commitment to be your own maintenance person. Learn how to clean, filter, maintain, and check ph/alkaline levels yourself instead of hiring a weekly "pool person." Additionally, it is easier these days to price-shop for pool supplies and chemicals with volume discount stores and outlets.
Financing Options for Your Backyard Investment
Very few people are able to pay cash for major investments (think automobiles) and it certainly makes sense that financing the cost for a pool makes perfect sense. Adding a swimming pool to your property almost always adds value to the appraised value of your home.
So where do you seek financing for the cost of the pool?
Viking Capital is a family business that has been helping people obtain financing for pool loans. Homeowners in the United States are able to improve their properties and their backyards with the help of Viking Capital. We pride ourselves on premium quality service as is evidenced by our online reviews (Google us and see for yourself!).
To talk to one of our loan consultants for free and with no obligations just complete the pool loan application form and we will be in touch to answer any and all of your questions.
Final Notes
Viking Capital would be happy to discuss your options with you if you have any additional questions. You may also find some helpful information about how to choose a pool builder here that will help you make a prudent decision about your new and fun investment!
Did you know? Not only is a pool an improvement, in some instances it can also be considered a tax deduction! Uncle Sam does have a heart should you have certain medical conditions in which a pool could be considered and evidenced a doctor-approved physical therapy, your new fun pastime might even qualify you for tax deductions up to $12,000 (translates into potentially $3,000 in direct tax savings depending on your tax bracket).
Valid medical reasons may allow you to deduct the cost of the installation and operating/maintenance of your new pool, while concurrently improving the value of your home.
If you are in your pool planning process these other articles of ours may be useful to you:
References:
Home Advisor website: "Build A Swimming Pool" at www.homeadvisor.com/cost/swimming-pools-hot-tubs-and-saunas/build-a-swimming-pool/
Bob Vila website: "How Much Does a Pool Cost?" at www.bobvila.com/articles/inground-pool-cost/ c. 2022