The moment you make the decision to get a pool is incredibly exciting. People usually put a lot of time into planning the pool's style, size, material, and even what deck furniture will compliment it. But there's one important element that people often neglect to consider – the season in which to start their project. Every season comes with its own unique benefits and detriments. The answer to when is the best time to build a pool will largely depend on which elements you personally value the most. And you'll soon discover exactly how to weigh those options to ensure you get the most out of your new pool. In addition, you'll learn how to prepare financially for the project so you can move forward at the optimal time.
Changes in Seasons and in Your Bank Account
If you've decided to have a pool installed then it's almost a given that you've thought about your finances. But it's important to keep in mind that there are different pool financing options and some sources of funding for your project might be better than others in terms of affordability and time to secure the funds. Generally, discussing financing with your builder up front will make things much easier for both of you. First, it will ensure you know your budget and second, that you have the funds ready when you need to make a payment for the work. With proper financing, you should be able to choose whichever season you want for your installation. The cost of a swimming pool is an obvious concern when deciding whether to invest in a new pool for your home. But it's important to keep in mind that a pool provides a lifetime of enjoyment as long as it's properly planned for.
Seasonal Issues and Benefits
Each of the four seasons has something going for it. You can usually decide on the best season to install your pool by considering how much each of the following points matters to you. There's usually going to be one season, in particular, whose advantages are a perfect match for your needs.
– Spring
Most people assume that spring is the perfect time to install a pool. If everything goes right then you'll have your pool ready by the time the summer sun starts to heat things up. Unfortunately, the fact that so many people have that idea means that contractors fill their openings fairly quickly. This either means that you won't find anyone who can complete the job in time, or that you'll be paying more for the builder's time as the demand increases so do their prices.

Spring also tends to bring weather that's not compatible with pool construction. April showers bring May flowers. But those showers can also soften the ground to an unusable state and may even cause flooding, any time lost only can cause delays and tightening of schedules of the already busiest time for builders. The issue of precipitation can be largely assessed by determining your area's rainfall in spring. This will of course be very specific to your case depending on where you are located. For example, you don't have to worry about spring showers if you live in Arizona or even Montana. But it's sure to be an issue in Mississippi.
– Summer
Having a pool installed during the summer might seem counterintuitive. You may assume that most contractors' schedules will have been filled up for the entire season. However, people tend to plan their entire summer around a new pool and want to have it installed as soon as possible. Because of that early-summer scheduling, contractors will often be able to fit new installations in at the end of the season. Of course, the obvious downside is that you'll only have a portion of the summer to enjoy your new dream pool. The scheduling skills of the pool builder will be a big factor here as you don't want to be promised a midsummer start date but find that the builder has overrun their spring or early summer installs and can't make the agreed time. That is why it is important when going through the process of choosing the right pool builder not only for the quality of their output but also their ability to meet deadlines and budgets.
– Fall
The biggest issue with a fall installation is that as the cold weather sets in you're going to be staring at an unused pool for a considerable amount of time. However, there are some important benefits to consider which offer an opportunity for those willing to take it. Cost and availability are both on your side during the fall. You'll avoid the summer rush and shouldn't have any problem finding pool contractors. The plans you have for your pool and backyard space will be a big factor in your time to build a pool, if you have a major project planned then fall can be a good time as you will not be inconvenienced with not being able to use your backyard during the build which will take weeks if not months. The drier ground in most areas will help the process go smoothly and efficiently and by the time summer comes around the landscaping and new plants you have added will have plenty of time to bed in and will be well established looking.
– Winter
Winter is arguably the most complex option. The downsides are similar to what's seen in the fall. You'll probably spend a long time staring at a pool you can't use until the weather warms up. Of course, that also means that you can enjoy your pool the second the warm weather rolls in.

The other big draw for winter construction stems from the fact that it's a slower season for most builders and contractors. These off-peak jobs typically translate into wide availability and lower overall costs. On top of this, it's not just an off-peak time for pool contractors. Most pool-related sales go down during the winter. And this typically translates into sales and lower prices on just about everything related to pools. For example, fiberglass pools often go on sale to clear stock for the upcoming season meaning there can be some great deals to be had.
Is Building a Pool in Winter a Bad Idea?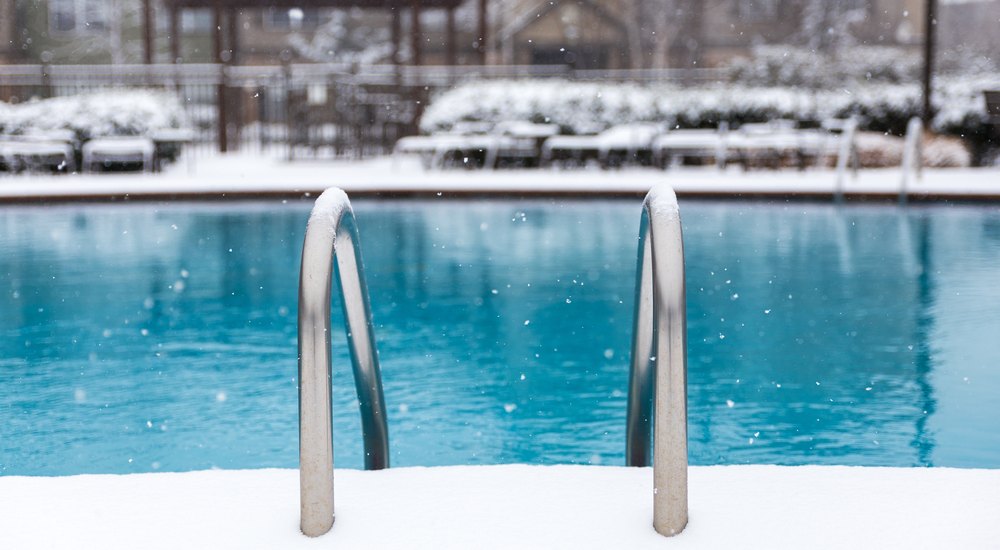 Despite the benefits, many people find themselves wondering whether pool installation during the winter months might be a bad idea. This largely comes down to the fact that people generally don't think about swimming when the temperatures are down and there's still snow or rain coming down. But when you choose a pool builder it's often a good idea to talk about winter construction with them. They may very well be able to offer you a great deal. There is also the benefit that with them being less busy they can put more effort and support into helping you with the pool design and ideas for the outdoor space.
So when is the best time to build a pool?
Deciding when is the best time to build a pool ultimately comes down to personal preference. It's important to consider how monetary factors, contractor availability, and a host of other factors play into your individual circumstances. But the most important thing is to make sure that you pick a season that works for you and your family,
A pool is a long term investment and homeowners need to consider the value they are adding to their home and return on spend.
Although we always want things 'now' it may be best to wait a little longer for a period in the year which suits your situation best.
Find this article helpful? You might also be interested in: