Fiberglass and concrete (gunite) pools are extremely different. They both have different strengths and weaknesses but ultimately either is a great choice and the decision can really be based on preference. To figure out what is best for you.
You will want to consider several factors including appearance, customization, feel, installation time, durability, and maintenance.
You may notice that I did not include the pool build cost and the reason is that on average, fiberglass pools will only save you about $5K in comparison to a concrete pool. The differences outlined below tend to play a far greater role in the decision-making process.
Appearance:
Fiberglass pools are single-piece premade shells which simply need to be buried in the ground. When going with a fiberglass pool, you will be limited to the styles available. Conversely, the appearance of your concrete pool is up to you and the capabilities of your pool builder.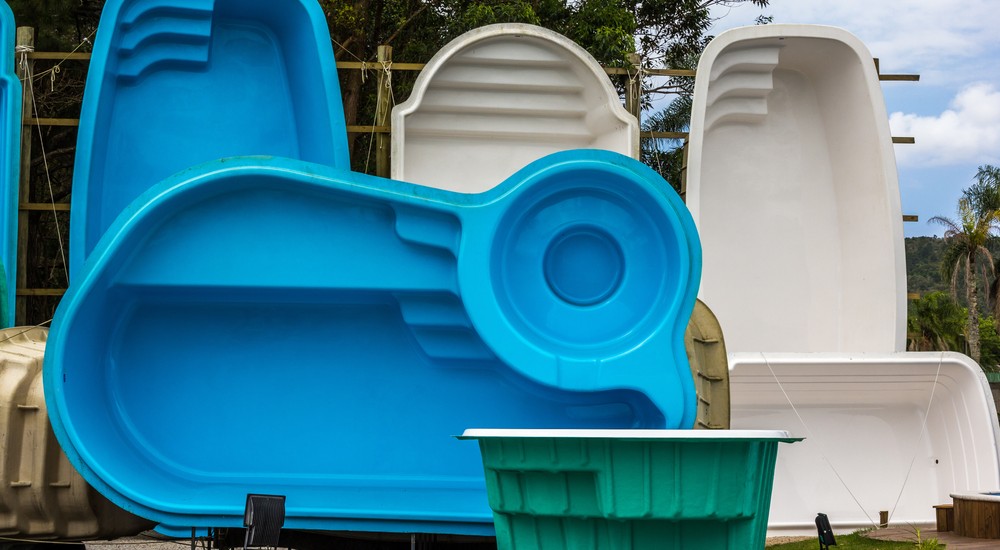 Customization:
As stated above, fiberglass pools are premade so there is limited customization. Fiberglass pools typically only run up to 16 feet wide, 40 feet long, and 8.5 feet deep. If you are looking for a very large or deep pool this may not be your best option. However, if this meets your vision in terms of size, there are many other ways to customize your fiberglass pool including tiles, lights, and colorful finishes. There are so many options to choose from that you are likely to find one which meets your vision.
In comparison, a concrete pool has no limit to customization, and you can add as much or as little as you would like. You can play with different sizes, finishes, features, and shapes in ways that a premade fiberglass design would not allow.
Feel:
Fiberglass pools always have a smooth finish by design. Concrete pools typically have a plaster finish which is rougher but there are plenty of other options such as glass or tile finishes for a smoother feel.
Installation Time:
A fiberglass pool will take days or weeks to install (because it is already made) while a concrete pool takes weeks to months to build. Installing a fiberglass pool essentially means digging a hole, burying the shell, and connecting it to the filter and heater. Building a concrete pool includes designing, digging, coating, finishing, and connecting the plumbing which is a much bigger project.
Durability:
Both types of pools are extremely durable and should last for decades if they are properly installed and maintained. They do both however face unique issues. Fiberglass pools can crack from shifts in the earth around them (typically caused by draining). Also, if not installed securely, bubbles can form underneath them (also from shifting earth) giving it a flimsy, hollow feel. Concrete pools can also crack, or depending on the finish, fade from the sun. Every concrete pool will, at some point, need a full remodel costing anywhere from about $10K to the price of a brand-new pool. This is because the type of cleaning system you choose can cause damage to your concrete pool over the years.
Saltwater systems will have an impact to your concrete pool but neither chlorine nor saltwater will damage the quality of your fiberglass pool.
Maintenance:
Fiberglass pools are typically lower maintenance. Due to their durable and smooth finish, they are more resistant to algae and chemical damage. Concrete pools are typically finished with plaster which is a much more porous material. This makes them more susceptible to algae and chemical damage. Other finishes may combat these issues but generally a concrete pool requires more maintenance.
| | | |
| --- | --- | --- |
| Evaluation Criteria | Fiberglass | Concrete (Gunite) |
| Appearance | Pre-made shell | Unlimited custom variation |
| Customization | Limited | Unlimited |
| Feel | Smooth | Depends on the finish |
| Installation time | Days to weeks | Weeks to months |
| Durability | Very durable against normal wear and tear (can crack or form bubbles underneath). | Very durable (can get cracks or fade in the sun). |
| Maintenance | Algae resistant and durable finish (low maintenance). | Rough porous finishes make concrete pools more algae and damage prone. |
Fiberglass vs Concrete Pools – The Takeaway:
Both types of pools have enthusiastic supporters and have been in use for decades, but there are differences to consider when deciding which will best meet your personal style and needs. You will want to seek out a pool builder that specializes in the type of pool you are considering. They will be a great resource for more information upon which to evaluate your options and choose the best pool for you. If you are interested in financing your pool, you can get a free loan consultation at Viking Capital. For no cost and no obligation, you will find out how much you can borrow and what the monthly payment will be based on your personal needs and qualifications.
If you are in the prepurchase phase of getting a swimming pool our other articles may also be helpful: