Can dogs swim in pools? It's one of the most common questions for both dog and pool owners alike. Outdoor fun just seems to go naturally with a dog's happy and energetic demeanor. But at the same time, people are naturally concerned about whether pools are safe for their dogs. On top of that, you might be justifiably concerned about possible damage to your pool. Thankfully, there is a solid answer to this question. And you'll soon know exactly how to judge whether or not your dog can join you for a refreshing dip in your pool.
Benefits of Swimming for Dogs
The question, can dogs swim in pools, is tied into a similar query. Should dogs swim in pools? Most people have seen dogs swim before. They usually master the "doggy paddle" far faster than any human taking his first swimming lesson. But people are often surprised to discover just how well-suited dogs are to the water. Dogs don't just tolerate the water, they usually thrive in it.
Dogs and humans alike can get a solid workout from swimming. But dogs typically need to work a little harder in the water. And this effort pays off for them.
It's estimated that a dog who spends 1 minute in the pool is enjoying the equivalent of a 4-minute jog. And this isn't just any kind of workout either.
Swimming is a full-body, low-impact, workout. Even better, the buoyancy of water ensures that elderly dogs can get a good workout without straining their joints. Swimming is both a great workout and great fun for dogs.
Keeping Your Dog Safe While Enjoying the Pool
There are a lot of good reasons to let your dog enjoy a swim in the pool. But it's also important to take both pool and canine safety seriously. You might even need to make some structural changes to your pool to protect your dog. However, a pool loan application can usually take care of most financial concerns surrounding that issue. But the larger question of just what needs to be done remains.
The most important thing to keep in mind about dog safety at the pool comes down to the fact that they have paws rather than hands. You probably don't think about just how often you use your hands to grab things in the pool. When you're tired you might grab the side of the pool. You can use your hands to grab and climb up ladders. You're even able to help other swimmers by reaching out to offer help. Many pool designs even make it hard to get into or out of the pool without grabbing onto something.
Thankfully some pool design trends like ledges make it easy for dogs and humans alike to safely enjoy the pool. Dog-focused ramps and ladders are also relatively common pool accessories. The most important point is to simply ensure that your dog can easily get out of the pool if they're feeling tired.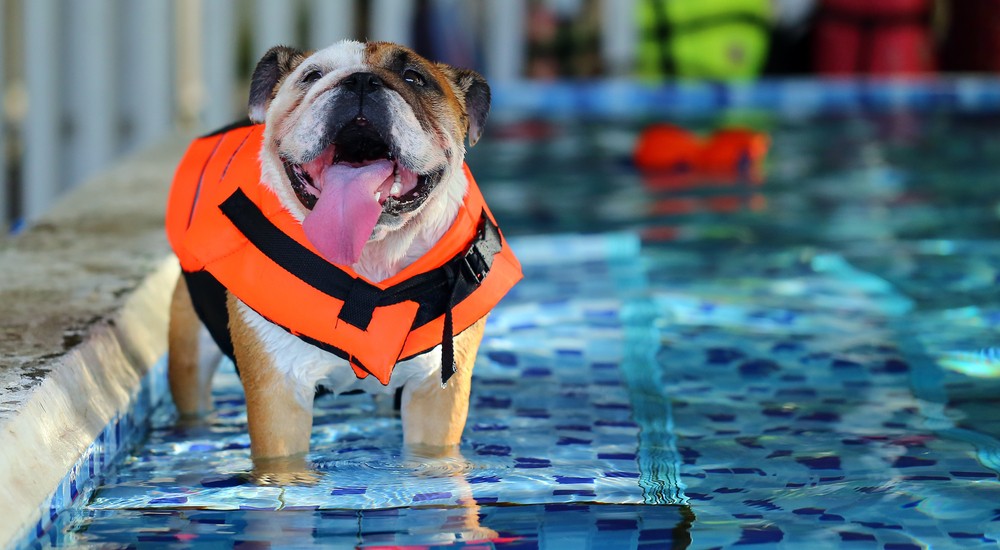 Can Dogs Swim in Chlorine Pools?
The choice between chlorine or saltwater pool systems involves weighing a number of pros and cons. But of course, your dog is usually among your top priorities. Dogs can swim in chlorine pools without any real risk of skin irritation. However, it's usually a good idea to give dogs a quick rinse with fresh water when they get out of the pool. Additionally, you'll want to keep them from drinking chlorinated water. This is usually as easy as simply keeping a bowl of drinking water by their entry point into the pool.
Can Dogs Swim in Saltwater Pools?
Of course, this raises the question of saltwater pools. Saltwater pools have about ten times lower salinity than seawater. This generally ensures that a dog's skin won't suffer undue irritation while swimming in it. As with chlorine pools, it's generally a good idea to rinse your dog off after they get out of a saltwater pool. Likewise, it's also a good idea to keep a bowl of drinking water where dogs have easy access to it during a swim. Drinking from a saltwater pool isn't as dangerous as swallowing ocean water. But at the same time, it's best to limit pool water intake as much as possible.
Can Dogs Damage Your Pool?
People often wonder if pools are dangerous for dogs. But what about the reverse? Is your dog a danger to your pool? One of the biggest concerns comes down to the material. The fiberglass vs concrete pool options are often difficult to settle on. And people might worry that they didn't pick the best one for their pet. However, both fiberglass and concrete pools are essentially dog-proof. But you should put some extra care into trimming Fido's nails if you have a vinyl-lined pool. Claws can easily damage vinyl. Stationary floats and ample stair access can also help reduce the chance of dogs damaging vinyl-lined pools.
Dogs will also take a toll on a pool's overall water quality. Fur is the most obvious issue. Your skimmer and pump basket will need to be emptied more frequently to compensate. You may also need to adjust your pool's pH and chlorine levels to make up for additional dirt and fur.
Tips for a Dog's First Time in the Pool
Some people were born for swimming and others need to take it slow. Dogs are exactly the same. You'll want to make sure you gradually help your dog get used to the pool and move at his preferred pace. It's especially important to help guide them out of the pool at first when they're done. Your pup might be a little nervous in the beginning. But don't worry, they're natural swimmers. It's just important to be there for them while they discover that fact for themselves.
Can Dogs Swim in Pools Right Now?
Can dogs swim in pools? At this point, you've seen that the answer is a definitive yes.
But the larger question is whether your particular dog is ready to swim in your pool. Most dogs can enjoy a good swim in the family pool. However, you'll need to keep everything you've learned up to this point in mind to make it a safe experience. But if you take the proper precautions it'll be fun for everyone.