Owning your own backyard pool is a dream come true. You probably thought about it quite a bit over the course of your life before deciding to make that dream a reality.
But did you know that landscaping can increase the value and enjoyment of that investment without incurring much additional cost?
And that's not simply in terms of money. You won't need to strain your back with landscape maintenance either. Just like you made the dream of pool ownership a reality you can have a beautifully landscaped area around it too. And you're about to find out exactly how to do so in the most labor and cost-effective way possible.
Key Takeaways
Plant choice is important, there are a lot of plant options to choose from. If you are looking for low maintenance options you want to stick to certain plant groups.
Naturally hardy plants like cacti, succulents, evergreens, wild flowers and ground crawlers are perfect options for making your garden look great while not needing much upkeep.
Plants are a big part of any garden but you can break up the space and create visually appealing features in your backyard that also do not require much ongoing care.
Rock Gardens
Boulders
Walkways
Lighting
Fire pits
Pergolas
Choose the Right Plants
Plants may well be the best possible option when looking for a high return on a modest investment of time, effort, and general pool maintenance chores. In theory, all it takes is some dirt, water, sun, and time. Though on a more practical level, you're going to need to make sure that you're using the right plants for your environment. As long as you're using the right plants you can easily turn your outdoor space into a lush oasis of green plants and beautiful blue water. It can be a natural area perfectly attuned to both the larger environment around you and your own personal tastes. Of course, as with any pool-related cost you'll also need to calculate your budget and figure out what you can afford. Viking Capital offers affordable pool financing to ensure you can make your dream pool a reality yet keeping it manageable with easy monthly payments.
Ground Crawlers
Ground crawlers are similar to grass in some respects. They don't typically need a lot of work to maintain. But at the same time, they're also resilient to foot traffic. That's not to say that you'll want people walking through ground crawlers on their way to the pool. But if small children run through them or you need to recover a ball it's not the end of the world either. And of course, more caution will be needed when handling the plants if they're flowering. In short, ground crawlers are a nice way to spruce up an area with greenery without making it off-limits for guests.
Cactus
The humble cactus is the poster child for self-sufficient plants. Anything that can survive in a desert can stand up to a lot. But despite how tough they are, many types of cacti have a unique beauty to them that can act as a perfect complement to your pool area. The beauty is often even enhanced through contrast with the pool itself.

A landscape with both pool and cacti creates a feeling akin to an oasis in the desert. But you can also work with the cacti's natural theme by implementing other desert-adjacent elements. For example, you might incorporate a cactus into a rock garden or even a boulder-focused design. The only caveat to cacti is that you need to be a little careful about how they're positioned. You want to make sure that people in bathing suits are nowhere near a plant's sharp spines.
Grasses
Standard lawn grass is an obvious possibility for your pool area. If your pool is in your backyard then there's a good chance that you're already making use of it to some extent. But you can take that a step further with ornamental grasses. There's a tremendous amount of variety to these plants. Though they typically have a somewhat feathery look and feel that can act as a complement to other landscaping options. Ornamental grasses are a great way to add some beauty to an area without needing to put a tremendous amount of work into upkeep.
Wild Flowers
Wildflowers are a great way to create a more casual feel in your pool area. The exact look will obviously depend on which wildflowers you go with. But as a general rule, wildflowers will create a calming or even "cottage core" feel. If you've ever wanted to recreate the feeling of swimming in a country lake in your own backyard then wildflowers might just be your answer. They'll often even attract butterflies and hummingbirds for that extra dash of colorful natural appeal.
Succulents
Succulents are a type of plant that is extremely good at storing water. As such they're also quite low maintenance. You'll find succulents in a variety of different forms. They can range from shrubbery to delicate-looking specimens with long and graceful stems. Succulents are also fairly flexible in terms of how well they can be adapted to fit different size restrictions. This makes them a good match for areas where you need to fill some space but lack options to clear the area any further. However, it should be noted that some succulents do have spines. This is rarer than, for example, with cacti. But it is something to take into account when matching succulent to space.
Evergreens
As their name suggests, evergreen trees provide you with a beautiful view of greenery throughout the year. And on top of all that they're generally extremely easy to maintain. Those two facts alone would earn them a spot on the list. But the plants also have another important feature that comes free of charge. Evergreens are a great way to implement landscaping for privacy. That beautiful greenery doesn't just give you a great view of nature. It also creates a natural wall to keep prying eyes from looking in when you're enjoying your pool. And being 'evergreen' means they are low maintenance since they will look the same whether you are well disciplined with a watering schedule or you just water them whenever you remember.
Potted Plants
Potted plants can work extremely well in a pool environment thanks to their inherent portability. Most of the options for pool landscaping aren't easily changed once they've been laid down. But you can easily move potted plants around as needed. Whether that's to suit your mood, add some additional privacy, or just because you wanted a change in scenery.
Building on a Solid Foundation
Plants are one of the best low-maintenance and generally inexpensive landscaping choices. But there are some other great options out there. Even better, many of the following landscaping options integrate perfectly into the overall aesthetic created by plants.
Rock Gardens
When it comes to low maintenance it's hard to beat anything that involves landscaping with rocks. Even the most resilient plants need a little extra care to keep them healthy. But rocks can last millions of years while still maintaining their natural beauty. And in the context of landscaping, you can enhance the stone's picturesque quality with the addition of plant life. A combination of complementary colored plants can create a stunning rock garden that doesn't require much in the way of cost or maintenance.
Boulders
Smaller rock gardens are great, but boulders have their own unique beauty. And apart from a rock garden setup a boulder is about as hands-off with the maintenance as it gets. But one of the best things about boulders is that they can enhance other features like a smaller rock garden. For example, you might use a boulder as the centerpiece of a rock garden. They're also a great tool to create walkways.
Walkways
Walkways are essentially created by just ensuring there's free space between two other landscape elements. For example, if you have wildflowers in one area you can position some boulders some distance away from them to essentially make a corridor for people to walk through. It's an element that often comes free of both monetary and maintenance costs when you're working within the context of a larger landscaping project.
Lighting
Lighting can be used in a number of different ways. Adding lights around a pool is one of the easiest ways to enhance its natural beauty. The sight of moonlight reflecting on a still pond has been an iconic element in art for most of human history. And lights can produce a similar effect. What's more, they can also be used to enhance the beauty of other landscape design elements. And their overall cost for electricity and maintenance is negligible.
Firepits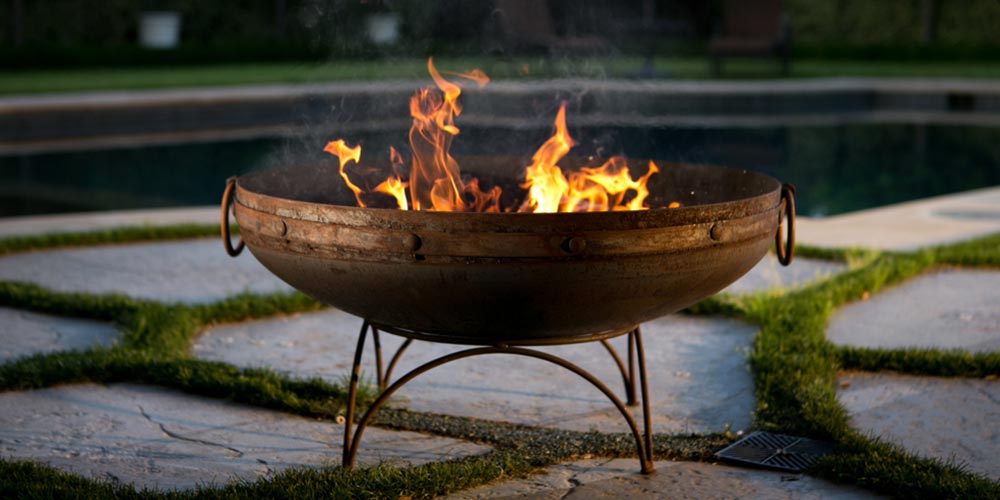 If you're a seasoned camper you might be surprised to see fire pits described as low maintenance. But poolside fire pits have a huge advantage over campfires. The most popular fire pit ideas take advantage of the fact that you have ample access to fire barriers. In short, fire pits automatically contain the debris that's normally a problem with standard open fires or fireplaces. The amount of time and effort needed to maintain a firepit is trivial in comparison.
Pergolas
Pergolas generally act as a support structure for other landscaping ideas. Of course, there's some inherent beauty to the pergolas themselves. But their magic really comes from enhancing that intrinsic beauty with an optimal choice of companions. You can use many of the previous plant options with pergolas. But Pergolas are typically paired with vines to create a living wall of sorts. One that doesn't require much work to maintain.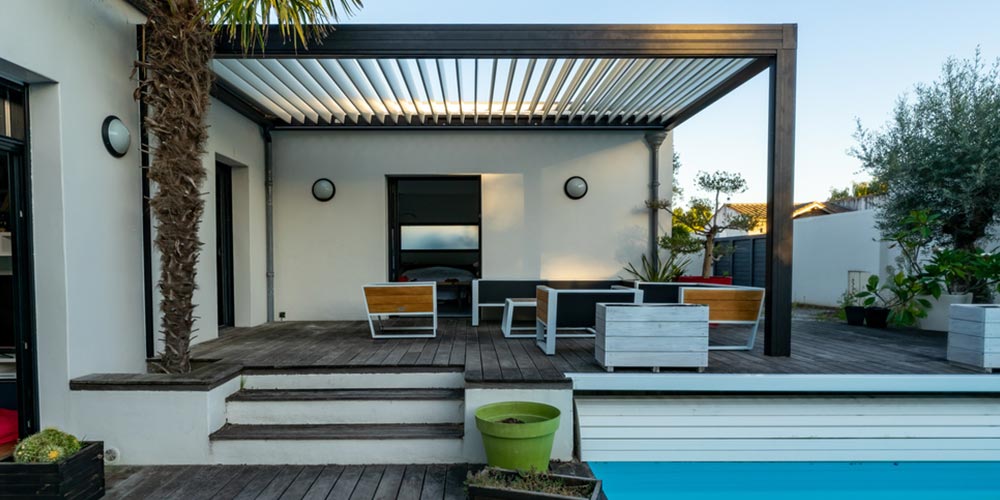 Make Sure You're Moving Toward a Design That Really Speaks to You
You now have all the pieces needed to create the perfect pool landscape design. However, that's somewhat akin to having the paint and an easel in front of you. It's time to create a greater whole from those tools. Think about how you can organize the landscaping options that sparked your interest within your own pool area. Take notes, sketch out some ideas, and make a solid plan for the perfect landscaping design. And after doing all your homework and you expect your landscaping project to exceed $15K, financing is available, just fill in our online form to get a free consultation from one of our loan specialists.