Simple pool landscaping ideas can instantly transform your pool in almost any way you desire. And even better, it can fit into any budget. You've probably considered doing some landscaping for your pool area. And it's almost a given that you've got some great ideas. But that desire often falls prey to concerns over cost and effort. But you're about to see some of the best options to turn that dream into a reality without breaking the bank.
Key Takeaways
Landscaping any backyard will add costs to your pool project but not all options need to be expensive. Some creative pool landscaping ideas on a budget are:
Choosing certain plants
Rock walls
Low maintenance rock gardens
Complete the project in stages
Use durable composite materials
Living fences
Lighting to highlight what you already have
Plants
Take a moment to think about the sheer beauty found in ponds, rivers, and waterfalls. The water obviously plays a part in making those areas so breathtaking. But their full appeal comes from the fact that beautiful plant life acts as a frame around the water. And you can achieve the same effect for your pool by incorporating plants.

You'll need to think about what you want to gain from the plants. For example, you might want to use shrubbery or similar concepts to create both beauty and natural privacy around your pool. Or you might want to concentrate on creating a beautiful cascade of colors from different flowering plants. You could even use plants to create walkways around your pool area.
Create a Rock Wall
As you saw with plants, you can achieve some amazing results by melding elements from natural bodies of water in with your pool. In addition to greenery, rocks and pools go well together for the same reasons. Look at images of gorgeous waterfalls and you'll see just how important stone is to that effect. You'll find water rushing down rockfaces. And the bottom of the waterfall will be filled with smoothed, beautiful, rocks. You can get a similar effect for your own pool. One of the first steps people often take to incorporate stone is to set up a rock wall. This can create privacy and act as a fence. But it can also act as a support structure. And of course, it adds that perfect touch of natural beauty.
Rock Garden
Rock gardens are another great, and inexpensive, way to leverage the natural beauty of stone. Most rocks won't cost much to acquire. And better yet, you don't need to put much money or time into maintaining them either. Simple rain is usually enough to take care of any stray dirt or other buildups that might show up over time. All you need to do is plan for how to utilize the rocks in an aesthetically pleasing way. If you don't mind a little extra work, a rock garden can also act as a perfect framing device for plants. The natural beauty of a pool, rock garden, and standard garden will all complement each other perfectly to create something greater than the sum of its parts. And all come at a reasonable price.
Build Deck in Stages
Pool decks are an undeniably great addition to any pool area. Unfortunately, they can also be quite costly. But there are ways around that financial hurdle. One of the most important first steps for any large project is to simply look into ways to finance a pool. There are a number of ways to widen the scope of your budget to meet your needs. And this can also be applied to the idea of how you build a deck. You don't need to do everything at once.

Building a deck in stages can help you spread out the costs. For example, the basic elements of a deck are the foundation and decking. Once those elements are in place you can make use of them. Later on, over time, you can add additional elements as needed.
Use Composite Materials
Using composite materials might seem like an odd proposition at first given that it's typically more expensive than standard wood. But the key factor is looking at long-term rather than short-term costs. Composite materials cost more at first. But it's also highly resistant to rotting, damage from wildlife, and even splintering or wear and tear. When comparing composite materials to lumber it's best to think about the total cost over a lifetime of use. And composite materials often become far less expensive when considered in that context. Especially if you're building a deck in stages like we previously mentioned.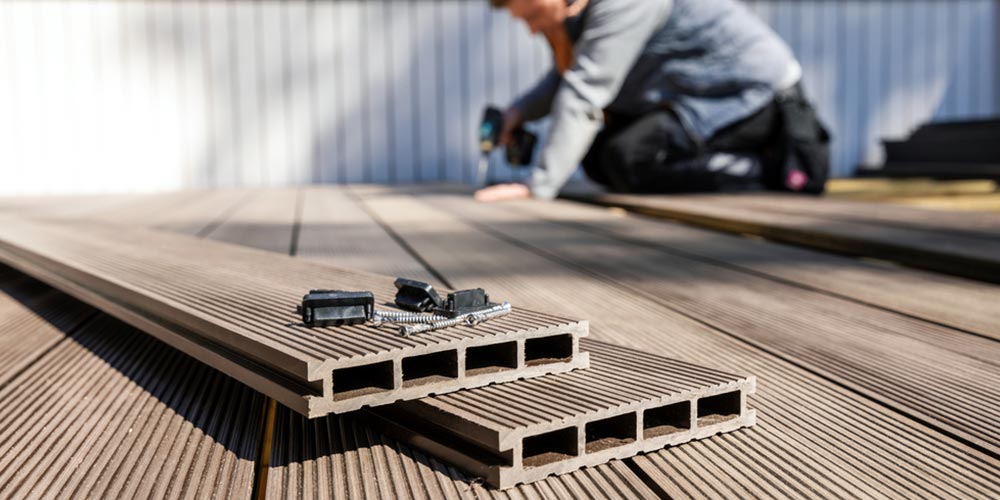 Natural Fence
Decorative fencing is undeniably impressive, but it can also cost an equally impressive amount of money. But as you've seen a few times in this list already there are some great pool fence options that are beautiful, cost-effective, and functional. One of the best ways to implement a fence that's both inexpensive and beautiful is to go with natural fencing. Hedges and stone are the most common options. And each is evocative of the natural beauty you'd find in woodland lakes or waterfalls.
Lighting
There's no question that a moonlit night can add a unique element to any landscape. The image of a full moon reflected on a still lake is an iconic image of nature's beauty. But think about what the cost of that natural beauty is. It just comes down to the night, light, and water. And the only thing your own pool is missing from that scene is landscaping lights. You can use lighting to create some truly beautiful effects at hardly any cost at all. Lights aren't just about the pool itself either. You can use lighting to illuminate or even create walkways. They can be used to set the mood on your deck. And you can easily adapt your lighting to fit any need without much extra cost or time to set things up.
Landscaping, Planning, and the Future of Your Pool
Now that you've seen some of the best budget-friendly landscaping ideas there's only one more step remaining. You should think about how you can use all of these ideas as a canvas to create the perfect pool area for your own tastes. Mix ideas, match them with your own creative flourishes, and start making the pool of your dreams a reality.